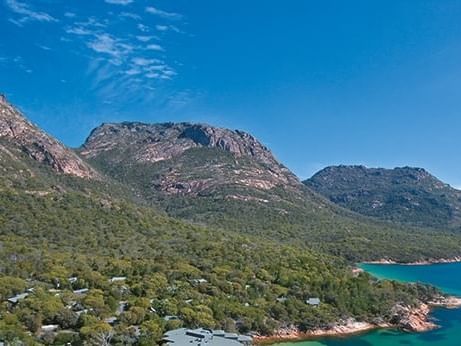 Think Pink: Glorious Rose-Tinted Hues Of The Hazards On Freycinet Peninsula
The Freycinet Peninsula has white sandy beaches, rugged headlands, granite peaks and small coves. Visitors can take in this magnificent scenery on short or long walking tracks in the National Park, by boat or by air. One of the most striking features of the area is the pink-hued mountain range known as The Hazards which rises above the pretty coastal town of Coles Bay. When the angle of the sun is low, photographers can capture the stunning red and pink glow of these four massive granite mounds.
Formation of the Rose-Tinted Peaks
The movement of the continental shelf has been causing folds and faults in the Tasmanian landscape for over 400 million years. About sixty million years ago, volcanic activity uplifted large blocks of land to form a low range on Freycinet Peninsula whilst Great Oyster Bay was opened up by rocks that sank. Streams caused erosion, resulting in The Hazards. This weathering and erosion process, which still continues today, is responsible for the glorious colours. The Hazards are composed of feldspar granite. Iron oxide impurities in this feldspar create the pink tint. Orange lichen which covers many of the rocks helps accentuate the effect.
How the Peaks Were Named
It might seem that this mountain range received its title because it can be risky for climbers, but it is actually named after a whaling ship captain by the name of Albert Hazard. Similarly, the four peaks acknowledge early European settlers in the area. Mt. Dove and Mt. Mayson are named after Reverend Joseph Mayson and Reverend Thomas Mayson who were two of the first ministers. Freycinet tourism started a long time ago as evidenced by the fact that Mt. Amos refers to Adam and John Amos who settled in Swansea in 1821 and regularly visited the Freycinet peninsula. Mt. Parsons recognises Harry Parsons who built tourist huts in the 1920s.
Time to Explore
As you stroll, climb, sail or fly over Freycinet, consider that Australia's Aborigines have been living in the shadow of this magnificent range for over 35 000 years. Look for middens (build up of shells from cooking fires) while you are exploring. Even today, The Hazards overlook a landscape that is serene, pristine and unspoilt. Take time to enjoy this ancient wonder during your Tasmanian holiday.