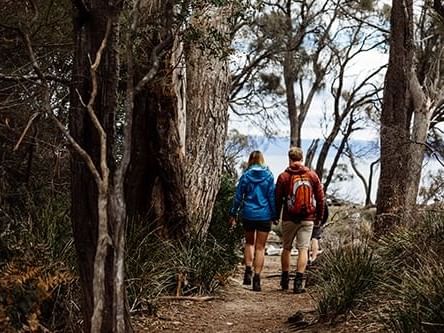 Short Walks
From Freycinet Lodge, you can easily enjoy a number of short, accessible walks within Freycinet National Park.
Richardson's Beach (1km approx.)
This is an excellent walk to take with a towel and a picnic basket tucked under your arm!
You can access Richardson's Beach via the track between Cabins 29 and 30, taking the five-minute walk along the boardwalk to get to the beach itself. Take the gentle 1km stroll along the beach, go for a swim, or relax in the sun with a good book and a hamper of delicious local food. The beach also leads right into Coles Bay, and the return walk from town offers stunning views of the Hazards Mountains.
Honeymoon Bay (approx. 500m walk from the Lodge)
From the Lodge car park, turn right and take the 500m stroll to the end of the driveway. Walk through the gate opposite Cabin 21 and down to Honeymoon Bay—one of the loveliest beaches on the Peninsula. This is a perfect spot to explore the rocks or a swim in the picture-perfect little bay. Take your camera at sunrise and sunset for amazing colours on the water, trees and rocky shore.
Sleepy Bay (approx. 2km drive; 10 min return walk)
Turn right from the Lodge car park and then take the first left hand turn. A short drive on a sealed road leads to the Sleepy Bay car park. This beach has lovely views of Mt Parsons and some excellent rock pools at low tide. From here, a track descends to Little Gravelly Beach (30 minute return walk). This track is steep and a little rough in places, but rewards you with beautiful views.
Cape Tourville Lighthouse (6.5km drive; 20 minute loop walk)
From Sleepy Bay, you can drive further on to the Cape Tourville Lighthouse. Here, a short, boardwalk path leads around the headland, offering incredible views from the track and a series of viewing platforms. Excellent interpretation signs also provide an insight into the area.
Wineglass Bay Lookout (1.5 hour/3km return walk)
No trip to Freycinet is complete without a walk to the Wineglass Bay Lookout. This walk departs from the walking track car park, located approximately 2.5 km from the Lodge. The beautifully made track is steep in places, but rewarding, with an unforgettable view over Wineglass Bay.
Walking tips:
It's important to be well prepared for walking in Tasmania, even if you're only planning a short walk.
Good quality, comfortable walking shoes with good grip are essential. The walks in the park cover a range of terrain—from beach sand to rocks, uneven dirt tracks and loose gravel.

Take water with you. There is no water supply within Freycinet National Park, so make sure you take at least one litre of water per person—more for a longer walk (some snacks and lunch are a good idea as well!).

Check the weather before you walk Weather conditions are variable in Tasmania at any time of year, so check the forecast before you walk and be prepared for sun, wind or rain (or all three). Pack sunscreen, a hat, rain jacket and warm layers.

Register your walk Make sure you register your details before commencing longer walks. Walker registration books are located at the start of the tracks in the walking track car park.
More information: Check the Tasmanian Parks and Wildlife Service website for more information and safety tips for walking in Freycinet National Park. http://www.parks.tas.gov.au/index.aspx?base=3371#1