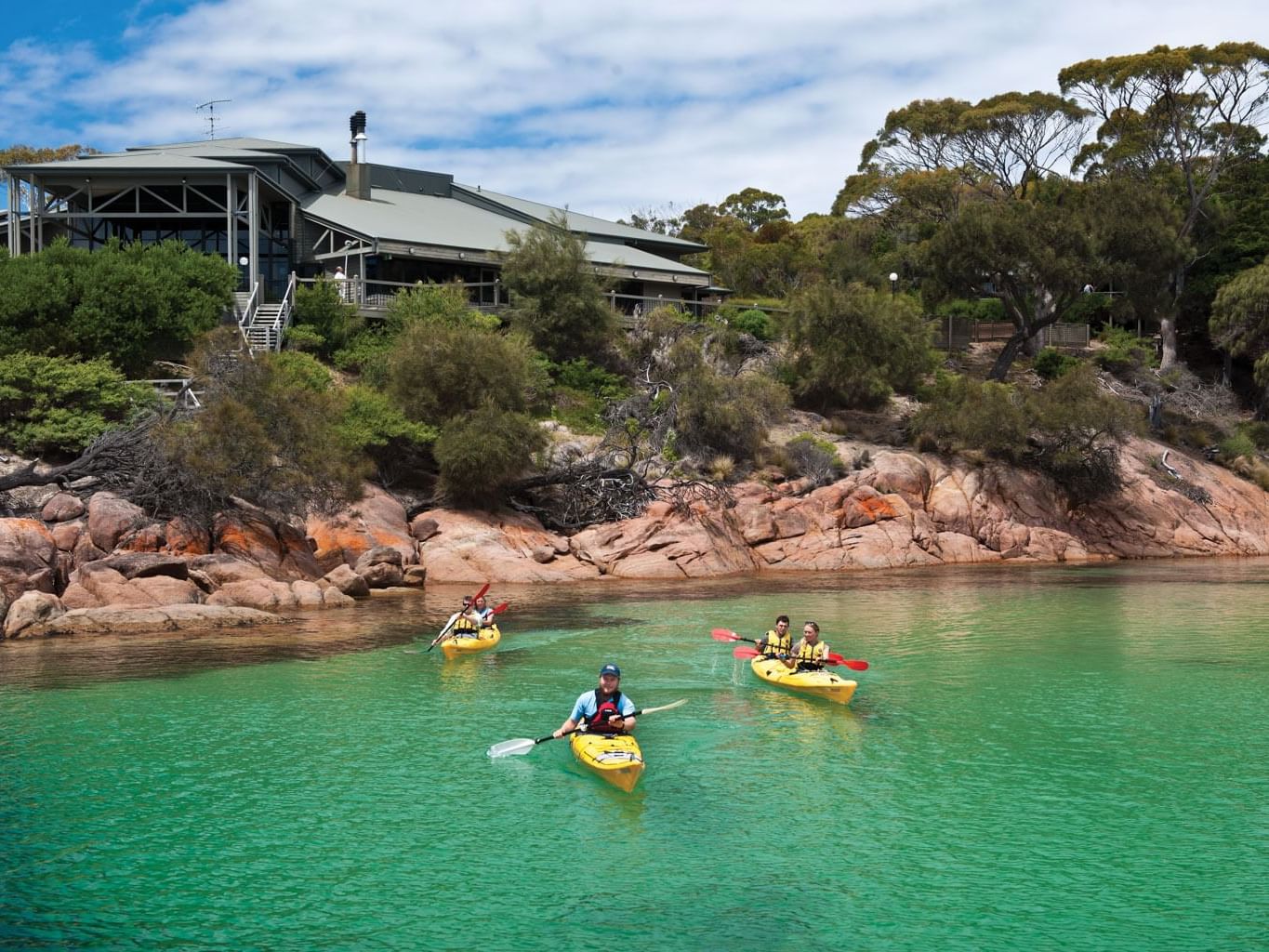 Magic Moments: Top 10 Things To Do At Freycinet National Park
Freycinet National Park is the ideal holiday destination. Whether seeking relaxation, soft adventure or an adrenaline rush, the Freycinet Peninsula caters for you. Here are the top ten activities to help you appreciate this spectacular part of the world.
The Hazards are an amazing pink-tinted, granite mountain range that dominates the peninsula. The Wineglass Bay and Hazards Beach Circuit will allow you to fully appreciate their beauty. The walk takes about five hours and there are some steep sections.
2. Kayak With Freycinet Adventures
See hidden parts of the coastline from the serenity of a kayak. Stingrays, dolphins and various sea birds are likely companions during your paddle. No experience and only moderate fitness are needed.
3. Relax With Wineglass Bay Cruises
Wineglass Bay has gained world-wide recognition as one of the world's best beaches. Breathtaking scenery, delicious food and wildlife such as dolphins, eagles and seals will ensure a perfect day out.
4. Taste Wine and Whisky At Freycinet Lodge
Tasmania has some incredible produce and there is no better place to taste fine local wines or whiskey than by the fireplace at Freycinet Lodge. You will be supplied with a history of the wine or whisky and tasting notes.
5. Quadbike With All4Adventure
Whether you are an amateur or have some skills, this quad bike adventure will give you the chance to travel off the beaten track. The trails provide enough challenge to give you some thrills whilst remaining perfectly safe.
This four-hour climb along a rustic track will reward you with an incredible view of Wineglass Bay. Some sections involve rock climbing, so do not attempt if you are not in peak condition. Allow four hours for the return trip.
The boardwalk to Cape Tourville lighthouse is easy to navigate and provides splendid coastal views of waves crashing on the rocks below. It takes about twenty minutes to walk around the base of the lighthouse and no particular fitness levels are needed.
8. Eat Seafood at Freycinet Marine Farm
Freycinet has unsurpassed seafood offerings and the best place to enjoy them is at Freycinet Marine Farm. This laid-back café can sate your appetite with mouth-watering menu items such as oysters, scallops, prawns and salmon.

9. Take a Scenic Flight With Freycinet Air

Rather than hiking, appreciate the beauty of Freycinet from the air. Incomparable views, outstanding photo opportunities and a knowledgeable pilot make this a jaw-dropping adventure.
10. Sip a Sunset Wine on Freycinet Lodge Balcony

Finish your day of sightseeing with a glass of local wine on the balcony of your Freycinet Lodge cabin. Looking out over the bay, you will experience the most sublime sunset. You will definitely know that you are in one of the world's most beautiful places.
Spoilt for choice most travellers are overwhelmed by the array of sightseeing opportunities at Freycinet. Allow plenty of time to truly immerse yourself in the beauty and pastimes available at this iconic Tasmanian destination.