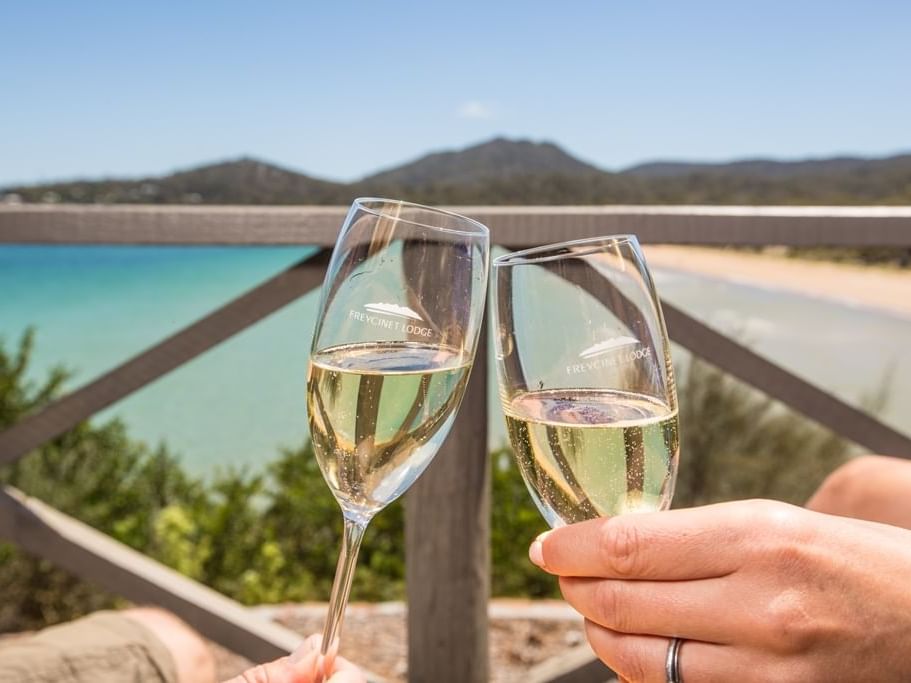 Grape Experience: Follow The East Coast Wine Trail From Freycinet Lodge
A visit to Freycinet Lodge would not be complete without browsing through Providore Wineglass located within the premises. This store showcases the very best of regional wines and foods. Choose a refreshing tipple from the Freycinet, Milton, Springvale or Devil's Corner vineyards to enjoy on your balcony.
Many of Tasmania's wines have limited distribution elsewhere. Wine lovers enjoy discovering these "hidden gems" in their travels. Freycinet Lodge is convenient to many boutique vineyards on the East Coast should you choose to explore further afield for quality cold climate wines. Ask the friendly staff at Freycinet Lodge to help you check for opening times.
The Cellar Doors
Tasmania's cellar doors vary from the luxurious to the quirky. Plan your sightseeing around some of these outlets.
Freycinet Vineyard: A 30-minute drive from Freycinet Lodge will lead you to this small valley. Heat is trapped in an amphitheatre-type landscape, creating unique grape flavours. As winner of the 2015 Wineglass Bay Sauvignon Blanc and having been included on Qantas menus, wine lovers must certainly try samples at the cellar door.
Devil's Corner: Merely 30 minutes from Freycinet Lodge, enjoy seafood and pizza with Pinot Noir, Riesling or Sauvignon Blanc in a stunning location which overlooks The Hazards and Freycinet Peninsula.
Springvale Wines: Only 40-minutes from Freycinet Lodge lies the Springvale Wines Cellar Door, located in an old stable built by convicts in 1842. They are Pinot Noir specialists but have a range of other highly- praised wines. Watch out for their pop-up seafood restaurant.
Milton Vineyard: At Swansea, 40-minutes from Freycinet Lodge, this vineyard is famed for its hand-made wines. Pair a Pinot Noir, Chardonnay or Iced Riesling with the delicious tapas menu on offer.
Gala Estate: Also 35-minutes from Freycinet Lodge, this vineyard was awarded Best Pinot Noir at the 2016 Tasmanian Wine Show. Learn about wines and local history at their cellar door which is located in an old post office.
Craigie Knowe Vineyard: A very short detour from Gala Estate will bring you to the east coast's oldest winery. Visit for a personalised tour and tasting; walk through the vines; experience the current workings of the vineyard and hear small snippets of the vineyard's history. A minimum of 24 hours notice is required . Bookings essential and can be made via enquiries@craigieknowe.com.au or by phoning Sandy on 0499902209.
Priory Ridge: Take a scenic day trip to the beautiful town of St. Helens and the Priory Ridge winery. Recent silver medallist for its Sauvignon Blanc at the 2016 Melbourne International Wine Competition, you'll find their cellar door in a small rustic shed.
Bream Creek: Further afield, to the east of Hobart, the Bream Creek cellar door can be found at Dunally Waterfront Café. With more than 20 trophies and over 450 wine show medals, you will certainly not be disappointed with these hand-crafted offerings.
Follow the Bouquet
Whilst dining and shopping on the Freycinet Peninsula watch for these delightful, lovingly-produced wines that also come from the local area.
Maclean Bay: Located near Bicheno, this winery is recognised for its Pinot Noir and Pinot Rose.
Aspley Gorge: Also hailing from the picturesque Bicheno area, try the Pinot Noir and Chardonnay from this winery.
Darlington Vineyard: Located near Orford, this winery has won numerous prizes at the Tasmanian Wine Show for its Chardonnay, Riesling, Sauvignon Blanc and Pinot Noir.
Cape Bernier: Located at Marion Bay on the south-east coast, this winery is famed for its hand-reared and hand-picked produce.
Kelvedon Estate: The same family has run this property for over 150 years and it is still a sheep property as well as a gold medal winner for its Pinot and Sauvignon Blanc.
Eclectic Range
Providore Wineglass is a quality purveyor of Tasmania's finest wines and foods. Speciality olive oils, sea salt, jams, chutneys, sauces and cheeses are also available in this eclectic store. Make sure you drop in when visiting or staying at Freycinet Lodge.