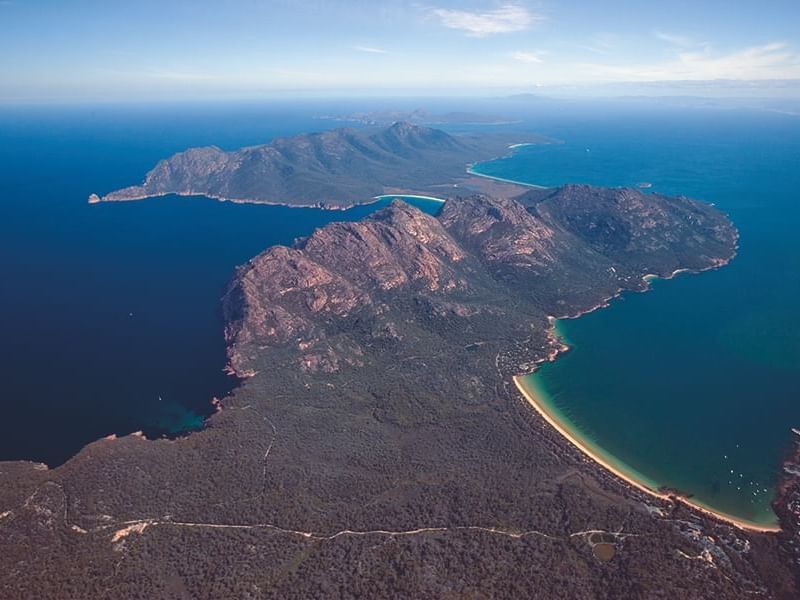 Freycinet National Park
Freycinet National Park is one of Tasmania's oldest and best-loved parks. Reserved in 1916, it is one of the first two national parks to be declared in Tasmania, alongside Mt Field National Park.
Freycinet National Park stretches across 16,803 hectares of the Freycinet Peninsula and is 43 kilometres long and six kilometres wide. The peninsula sits between the Tasman Sea in the east, and sheltered Great Oyster Bay to the west.
A variety of ecosystems exist within the Park, from coastal heaths, tall forests, wetlands and lagoons, to sandy beaches and rocky cliffs. The peninsula has a dry, mild climate, which has made it popular with visitors for generations.
French connection
Freycinet is named for two French brothers—Henri and Louis Freycinet—members of Nicolas Baudin's momentous 1802 expedition to 'chart the coast of the Great South Land'. Napoleon himself had entrusted Baudin with the command of the voyage, which was conceived as the greatest scientific expedition ever to leave Europe.
A land of colours
Freycinet National Park is dominated by the craggy spectacle of the Hazards Mountains, which rise up over Coles Bay. The range is made up of Mt Parsons (331m), Mt Dove (485m), Mt Amos (445m), Mt Mayson (420m), and Mt Baudin (413m). These granite monoliths sit at the northern end of the park, and their distinctive pink colour is due to the presence of a rose-coloured form of the mineral feldspar.
Freycinet's distinctive white sand beaches are made up of quartz sand and fine silica. It is this pure white sand that gives the clear oceans of Freycinet their tropical blue colour.
Freycinet's intense natural palette makes it a paradise for photographers—so as you explore the Park, make sure you have your camera with you!
Things to do
Freycinet offers a range of wonderful short, full day and overnight self-guided walks. Some of the most popular include the Wineglass Bay Lookout, Hazards Beach, and Wineglass Bay/Hazards Beach circuit walk. There are several other short walks that will lead you to stunning beaches and lookouts, including Sleepy Bay, Honeymoon Bay and the Cape Tourville Lighthouse.
Freycinet's lovely bays and beaches, clear water and white sand present an irresistible invitation to swim, snorkel, kayak, or go boating or sailing. A number of tourist operators offer excellent opportunities to explore—from sea kayaking tours to cruises, sailing expeditions, scenic flights and guided walks.
Check with our Reception team for more information about things to do within the Park.
Wildlife
Freycinet is a protected environment, home to an abundance of native wildlife. As you explore, you may encounter wallabies and pademelons, echidnas, possums, quolls, prolific birdlife and awe-inspiring marine mammals, including dolphins, Australian fur seals and migrating southern right whales.
National parks passes: A valid national parks pass is required to enter Freycinet National Park. 24-hour parks passes are available at Reception.