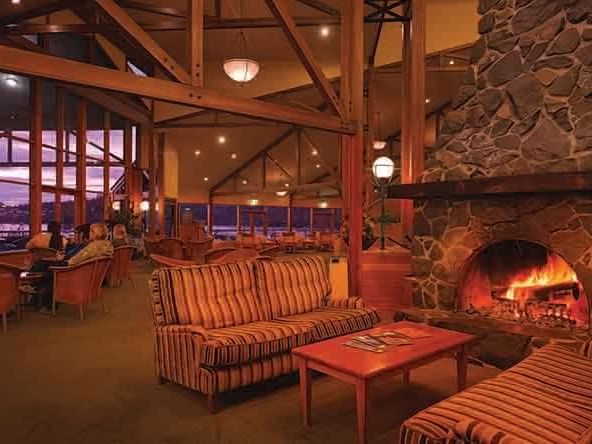 Freycinet Lodge History
Freycinet and Coles Bay have been popular holiday destinations since the late 1800s. Prior to the 1930s, the area was largely undeveloped. Early visitors travelled to the peninsula by boat or steamer from Swansea to enjoy bushwalks, picnics, swimming and fishing. One of the first people to settle here was pioneering local Harry Parsons, who retired to the area in the 1920s. In 1934, Harry acquired five hectares of land on what is now the township of Coles Bay— a purchase that marked the beginning of the township.
The Chateau
That same year, another local pioneer named Ron Richardson successfully lobbied the Tasmanian government to annexe a small section of land from the Freycinet National Park. Ron leased the land and set about building holiday units on the site, known as the Chateau. It was a labour of love, built by a hardy group of friends using bricks that were hand-made on site. Fourteen holiday units were built, with a central building, the Chateau itself, constructed of white-painted fibro and black wooden strips.
The Chateau was a hugely popular holiday retreat, and visitors loved the peace and seclusion of a place where days could be spent wandering, swimming, lazing in the sun, enjoying meals from the Chateau kitchen, or having springboard diving competitions in the bay!
In 1939, Ron purchased more land at the Fisheries, where he built a number of shacks. He married Jilli Hollis in 1941, and together they had four daughters and created an idyllic family life on the edge of the National Park. Ron was a local identity, a skilled pilot and a true character. Richardson's Beach is named after him—and there are stories that he used to land his Tiger Moth plane on the sand there at low tide!
Disaster struck the Richardsons in 1953 when the Chateau was destroyed by fire, leaving 40 guests without a place to sleep. Ron and Jilli sought investors to rebuild the property, but mounting financial pressures eventually forced them to sell their beloved Chateau to Ron's business partner, Mrs Early.
Freycinet Lodge
The Chateau had a number of owners over the years, including Hugh and Joan Brand, who bought the property in 1970. Joan Brand sold the lease in 1990 to a private investor who redeveloped the property.
By this time the Chateau was in a state of disrepair, and was demolished. A new lodge and 38 cabins were completed on the site in December 1993, and the property opened its doors to a new generation of guests as Freycinet Lodge. A further 22 cabins were completed in November 1995 and a new restaurant, Richardson's Bistro, was opened the following year.
Federal Hotels and Resorts purchased the property in 2004, and the RACT took ownership of Freycinet Lodge in 2013.