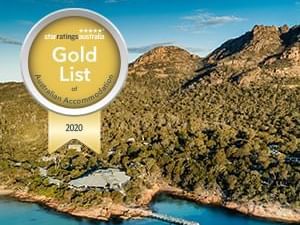 Freycinet Lodge on the 2020 Gold List
We're so proud to have been included in the 2020 Star Ratings Australia Gold List for accommodation providers in Tasmania.
Star Ratings Australia assesses all of the online accommodation guest reviews across the state and recognises those accommodation providers who have reached the highest standards, according to their guests.
The competition is hot in Tasmania, with so many outstanding accommodation providers. To be announced among the best of the best places to stay in Tasmania is a genuine honour.
We'd like to say a big thank you to our team for all of their wonderful efforts in 2020, to work together and continually deliver an outstanding and authentic experience for our guests.
2020 certainly hasn't been the simplest or easiest year in our industry but our team has held strong and we're very proud to have received this recognition. As we approach the end of 2020, here's to another big year in 2021!