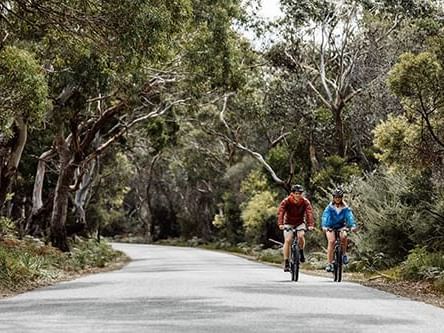 7 Things You Can Do All Year Round at Freycinet Lodge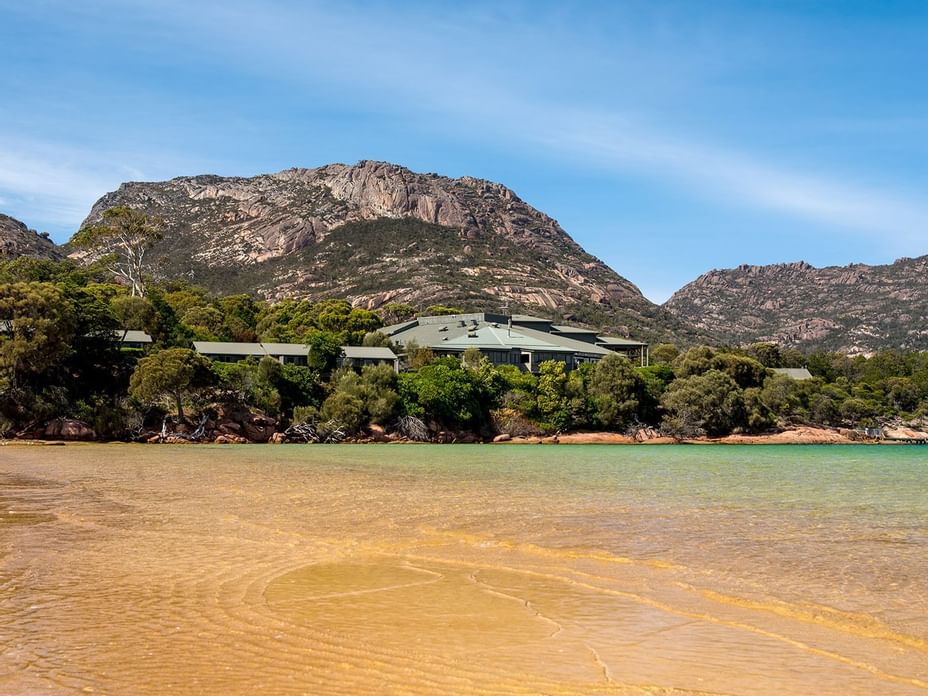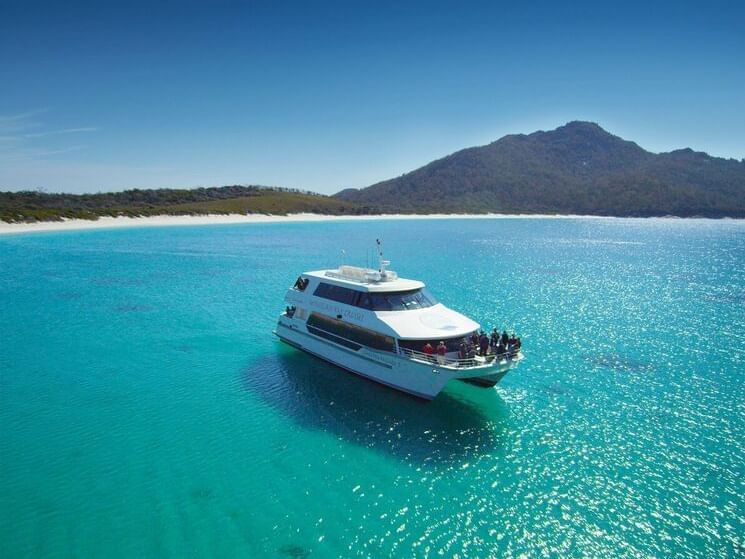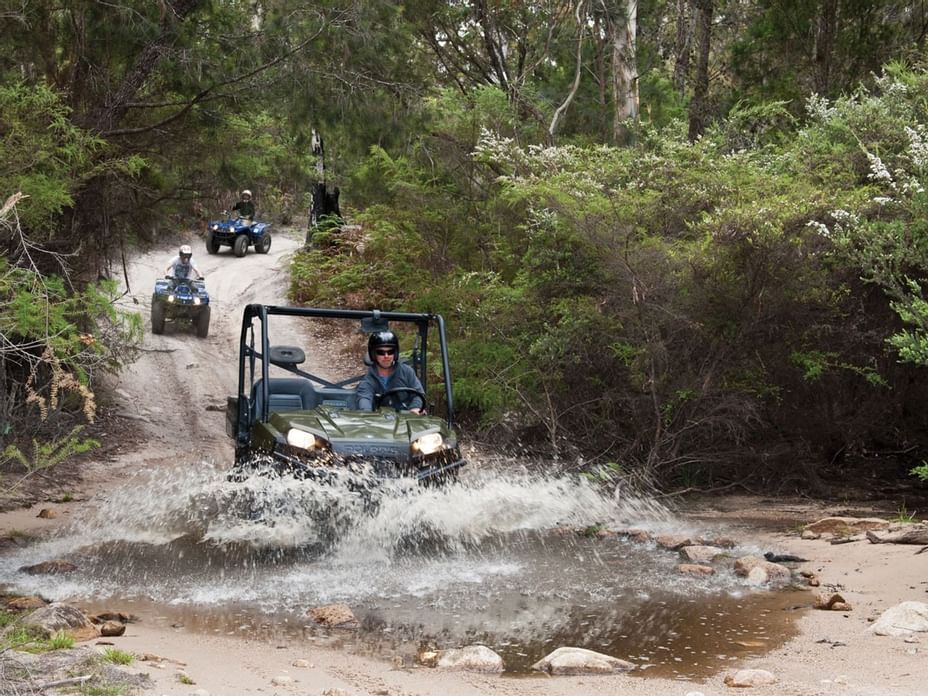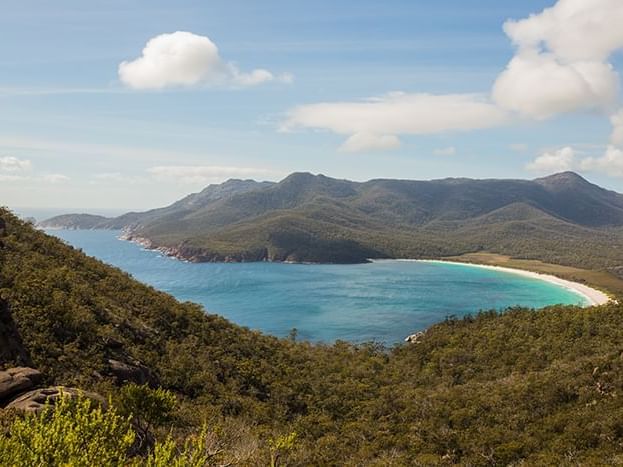 From beautiful beaches and a pristine national park, to delicious produce and fun-filled activities – Freycinet Peninsula is a fantastic place to visit during all seasons. Here are 7 activities that can be enjoyed all year round:
1. Take a refreshing walk along the beautiful beaches in Coles Bay.
Start your day off with some fresh air and a nice walk along Richardson's Beach – right near your accommodation. It is a lovely, shallow cove and excellent for swimming in the warmer months. However, if you're visiting Freycinet in the cooler months, it's still worth a visit and makes a lovely short walk if you continue on to the Coles Bay Boat Ramp. Here you can grab a coffee or some lunch at Geographe Restaurant + Espresso Bar, in the Coles Bay township.
Along the main road you will also find Honeymoon Bay and Friendly Beaches, both of which are stunning beaches and worth tying into your itinerary.
2. Hike to Wineglass Bay on one of the Freycinet National Park walks.
There are many beautiful walks around Coles Bay and Freycinet National Park, ranging from easy to difficult in intensity. Moderate walk, Wineglass Bay, is a steeper, but more direct 2.5 - 3 hour return trek. It is well worth the challenge and will take you to panoramic views from the Wineglass Bay Lookout, before descending into the bay. Another moderate walk is Wineglass Bay/Hazards Beach. This is a flatter, but longer circuit, taking around 5 hours total.
If you'd like to see Wineglass Bay on a more leisurely walk, Cape Tourville takes you to a lighthouse where you can see panoramic views of Wineglass Bay and Friendly Beaches.
*Upon arrival, the friendly team at Freycinet Lodge reception will provide you with a map and more information on the incredible walks around Freycinet National Park.
3. Watch dolphins swimming alongside your tour boat on the Wineglass Bay Cruise.
If you'd love to see Wineglass Bay, but would prefer do so while relaxing and sipping on a glass of Tassie wine, then set sail on the Wineglass Bay Cruise. This experience showcases the best that Tasmania has to offer – delicious produce and stunning coastal views. Marine life is also a highlight on this cruise and there's a very real chance you'll get to see bottlenose dolphins racing alongside the boat. The cruise will arrive in stunning Wineglass Bay, where you can bask in the beauty (without even breaking a sweat) before heading back to Coles Bay.
More information on the award winning Wineglass Bay Cruise.
4. Hire an e-bike and tour around the township of Coles Bay and beyond.
After some well deserved indulging, why not hire an e-bike and tour around Coles Bay. Enjoy the beautiful coastal views, all while getting some light exercise and doing your bit towards a 'no carbon footprint'. Here you might choose to visit Honeymoon Bay again. Or, if you feel like riding a bit further (and don't worry, this is where the battery powered pedal comes in handy) Bluestone Bay and south Friendly Beaches are also highly recommended.
*You can hire e-bikes from the Freycinet Lodge reception, which includes bike, helmet, small backpack, spare tube, tools and advice on where to ride.
5. Visit the local vineyards and pick up some great Tasmanian wines.
The East Coast Wine Trail is a mere 30-minute drive from Coles Bay, where Freycinet Lodge is located. First up, it will certainly be hard to miss the architecturally designed Devil's Corner cellar door. If you tie this in around lunchtime, try their delicious wood-fired pizzas. Next stop is Spring Vale Vineyard where you can experience a piece of rich Tasmanian convict history. Just a short drive from Spring Vale Vineyard is Gala Estate. Be sure to pick up a bottle of Gala's fantastic riesling, which comes highly recommended by James Halliday.
More information on the East Coast Wine Trail.
6. While you're visiting the East Coast Wine Trail, pick-up some freshly shucked oysters from Freycinet Marine Farm.
What goes better with a bottle of Tasmanian riesling than freshly shucked oysters? Tassie produce brings with it many seasonal joys, fresh seafood being just one of them. You can pick up some of the best Tassie seafood on offer from Freycinet Marine Farm. Prawns, oysters, you name it. You may choose to enjoy these back at your accommodation while watching the sunset, or ask for some ice and take them to your next destination – it's your choice.
Directions and more information on Freycinet Marine Farm.
7. Finally, hop on a quad bike and explore the Freycient Peninsula with ALL4Adventure.
If you're an adventure seeker, there's no better way to experience the beautiful Freycinet Peninsula than on 4 wheels. This guided tour takes you to some hidden, otherwise inaccessible locations within the National Park. It is a fun-filled adventure for all ages, which can be enjoyed in the warmer or cooler months.
Check out All4Adventure quad tour options.
Needless to say, no matter the season, you will have a wonderful time while staying at Freycinet Lodge. Explore the many other great activities on offer in this glorious part of Tasmania.
Written by Laura Wilson.