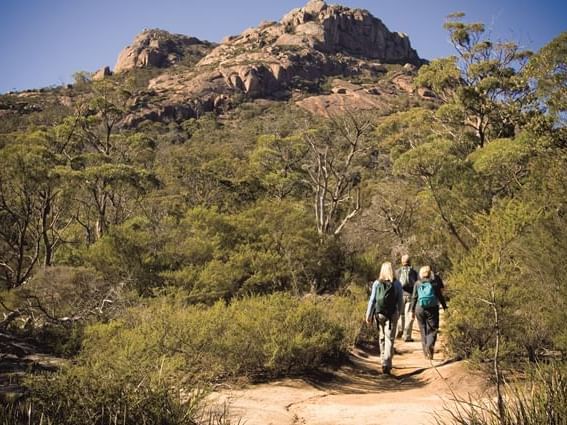 Longer Walks
If you're a little more adventurous and are well prepared, you may like to try one of the longer walks within Freycinet National Park. All walks begin in the walking track car park, located approximately 2.5km from the Lodge.
Hazards Beach / Wineglass Bay Circuit (11km return / 4-5 hours)
Take the Hazards Track from the car park, and follow the coastline around Mt Mayson to Hazards Beach where you can soak up the views of Great Oyster Bay. This section of the walk is along a rocky, undulating track and takes around two hours.
You can return to the Lodge from here, or continue on to Wineglass Bay and complete the circuit.
From Hazards Beach, take the 30-minute, flat walk along the Isthmus Track, past Hazards Lagoon and on to Wineglass Bay. Spend some time wandering on this famously beautiful beach before following the uphill track to the Wineglass Bay Lookout, and down to the car park.
Mt Amos (approx. 4km / 3 hours return)
Mt Amos is part of the Hazards Mountains, which overlook Coles Bay, and the challenging walk to its summit offers stunning views. This walk is steep and strenuous, and includes a section of rock climbing, so it is for experienced bushwalkers only and is not recommended for children or elderly walkers. The track also crosses slippery rock slab sections, and shouldn't be attempted in wet conditions when the rocks are slippery.
Walking tips
Some longer walks in Tasmania are only suitable for experienced bushwalkers. For your safety, make sure you're well informed and well prepared with drinking water, food, a tent (if you're camping) and wet weather gear. For more information, check the Parks and Wildlife Service Essential Bushwalking Guide[MB1]
Be informed Before you depart, visit the Tasmanian Parks and Wildlife Service [MB2] website to plan your walk in Freycinet National Park. You can also call into the Visitor Centre to speak with one of the rangers before you walk.

Take the right gear Good quality comfortable walking shoes with good grip are essential. You'll also need warm layers, a quality rain jacket, sun protection, a tent and adequate camping and cooking gear if you're planning an overnight walk.

Take water and food with you There is no reliable water supply within Freycinet National Park, so make sure you take enough water with you to last the duration of your walk.

Check the weather before you walk Weather conditions are variable in Tasmania at any time of year, so check the forecast before you walk and be prepared for sun, wind or rain (or all three). Pack sunscreen, a hat, rain jacket and warm layers.

Register your walk Make sure you register your details before commencing your walk. Walker registration books are located at the start of the tracks in the walking track car park.
---
[MB1]http://www.parks.tas.gov.au/index.aspx?base=403